TAYLORMADE LADIES STEALTH GLOIRE DRIVER
Free Shipping
Free standard shipping on orders over $99
Shipped within 7 business days after placing the order.
FEATURE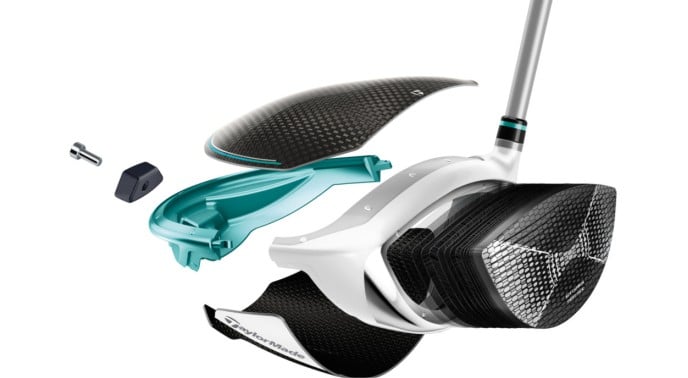 CARBONWOOD × GLOIRE
A stealth driver that bears its name, meaning that it has been developed in secret for over 20 years. A new era of "carbon wood" has begun, leaving behind common sense and opening up a new era for drivers.
The new Stealth Gloire Driver uses an innovative 60-layer carbon twist face to dramatically improve impact energy transmission efficiency (ball initial velocity). And the excess weight created by the multi-materials used in each part of the head benefits the entire head platform. CARBONWOOD × GLOIRE was born with a lightweight club design that allows you to fly gently and achieve a high level of flight distance and forgiveness by further lowering the center of gravity.
DRAW YOUR NEXT LEVEL
The carbon twist face, carbon crown, and full carbon sole have succeeded in creating more surplus weight. As a result, a back weight for high trajectory and a draw bias weight for gripping are installed, and a new structure with improved gentleness is born, which generates a large moment of inertia due to optimal weight distribution. It will give you the trajectory you've always envisioned.
CARBON WOOD FOR ALL GOLFERS
In addition to the 60-layer carbon twist face, a forged aluminum ring is used. As a result, additional surplus weight is created and a draw bias design is possible. "Stealth Glore Driver" was born succeeded in realizing the coexistence of distance and tolerance of the next dimension. A ring made by precision milling of lightweight and high-strength aluminum makes it possible to form all parts by bonding instead of welding.
PURSUIT OF A COMFORTABLE HAMMERING SOUND
Hit feel is one of the most important factors when choosing a club. It is the "hitting sound" that influences the "hit feeling". TaylorMade's sound engineering team has carefully analyzed and thoroughly pursued a pleasant hitting sound. By combining "shape" and "internal structure", the acoustic performance was refined, creating a hammering sound that surpassed the previous work.
The "Stealth Gloire Driver" has an "acoustic adjuster" mounted on the toe side of the carbon sole that adjusts the sound resonance and creates a comfortable hitting sound.
TECHNOLOGY
60 layers of carbon twist face - A lightweight carbon face completed after long research. By precisely stacking 60 layers of carbon with a complex structure, it achieves both high strength and large deflection and brings about a new dimension of energy transmission. In addition, by combining TaylorMade's unique "Twist Face", it has strong stability against missed hits.
Nano texture PU cover - By applying an elaborate nano-level polymer coating (PU) to the entire face, enables the optimum amount of spin under any circumstances and creates a flight distance.
Lightweight Design - Each part of the head, including the "60-layer carbon face", "forged milled aluminum ring", "carbon crown", and "carbon sole", consists of multi-materials. As a result, we succeeded in creating more surplus weight, benefiting the entire head platform and pursuing "gentleness" and "flying". In addition, Fujikura's Stealth Gloire exclusive "Speeder NX shaft" and Lamkin's original grip contribute to the weight reduction of the club. We have achieved a lightweight club design that allows for easy swinging and gentle flight.
Forged milled aluminum construction - Precision-milled from lightweight, high-strength aluminum, the forged milled aluminum ring joins the full carbon sole, carbon crown, and 60-layer carbon face without welding. A "forged milled aluminum ring" that realizes integration improves stability and forgiveness.
Inertia Generator - The "inertia generator", which has a heavy weight behind the head, contributes to increased forgiveness. Furthermore, by expanding the face surface, air resistance is reduced while increasing forgiveness, realizing the speedup of the downswing.
Penetrating speed pocket - TaylorMade's unique penetrating speed pocket contributes to maintaining the ball's initial velocity by suppressing unnecessary spin even on mis-hits at the bottom of the face.
SPECIFICATION
HEAD
STEALTH GLOIRE Women's DRIVER
head material / face material
Titanium [9-1-1 ti] frame + carbon crown + carbon sole + aluminum ring (forged) + back weight / 60-layer carbon twist face + PU cover
Head volume (㎤<㏄>)
460
Lie angle (°)
58
length
FUJIKURA SPEEDER NX for TM (L)
43.75
(inch)
FUJIKURA SPEEDER NX for TM (A)
44
SHAFT
FLEX
Loft angle (°)
11.5
12.5
FUJIKURA SPEEDER NX for TM
L.
△
●
A.
●
●
● indicates development in the finished product club and the custom-made club.
△ is for custom-made clubs.
SHAFT
FUJIKURA SPEEDER NX for TM
flex
L.
A.
club weight (g)
about 252
about 255
Shaft weight (g)
about 39
about 42
torque
7.6
7.3
balance
C1
C3
kick point
Destination
first middle
grip
Lamkin ST BK / WH CP (diameter 59X / 25g) calibrated (backline) Yes