TAYLORMADE LADIES STEALTH GLOIRE FAIRWAY WOOD
Free Shipping
Free standard shipping on orders over $99
Shipped within 7 business days after placing the order.
FEATURE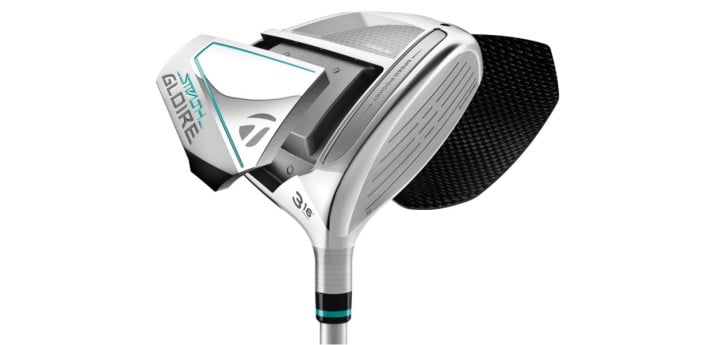 DRAW YOUR NEXT LEVEL
Stealth Gloire fairway wood is a titanium fairway that uses "ZATEC titanium twist face" and "6-4 titanium body". Achieves high flight distance and straight running performance with a lower center of gravity and draw bias design with "steel sole weight".
MULTI-MATERIAL CONSTRUCTION
Ten years have passed since the birth of the Gloire series. The adoption of the "titanium" material, along with the carbon crown mounted on it, has succeeded in improving optimum launch and forgiveness. In addition, the combination of "ZATEC Titanium Twist Face" with high repulsion performance and "penetrating speed pocket" expands the sweet area and contributes to further gentleness.
THE GOODNESS OF OMISSION IN ANY SITUATION
Equipped with a "V steel sole" that minimizes the contact area of ​​the sole and provides a good omission. Equipped with a 75g (#3) steel sole weight, it has succeeded in lowering the center of gravity and increasing forgiveness. The V-steel sole reduces friction at impact, allowing you to swing as you wish, not only on the fairway, but also on shots from the rough.
A SHAPE THAT PURSUES GENTLENESS
Compared to the previous SIM Gloire, the shallow head design has a larger projected area at address, making it easier to lift the ball and giving you a sense of security when you hold it. A sharp leading edge evokes an image that makes it easier to pick up the ball.
TECHNOLOGY
Multi-material construction - "Titanium" material is adopted. Combined with an innovative carbon crown, we have achieved further weight reduction, improved launch and gentleness, pursued speed, and realized a fairway wood that combines distance and forgiveness.
ZATEC titanium twist face - A design that expands the sweet area by installing a "ZATEC titanium face" that features high repulsion performance and a "penetrating speed pocket". Combined with "Twist Face", it achieves high straightness even on heel side or toe side shots.
Steel Sole Weight - Equipped with a 75g (#3) steel sole weight to achieve a low center of gravity. I realize further high trajectory. In addition, by designing with a large center of gravity angle that has never existed before, high tolerance is also realized.
Forgiveness and optimal launch - Adopted the optimum center of gravity design to achieve optimum and stable launch. Compared to the previous SIM Gloire, the shallow head design makes it look a little larger overall, giving you peace of mind and increasing tolerance. At the same time, the sharp leading edge supports ball flight
Penetrating speed pocket - TaylorMade's unique penetrating speed pocket contributes to maintaining the ball's initial velocity by suppressing unnecessary spin even on mis-hits at the bottom of the face.
SPECIFICATION
HEAD
#3
#5
#7
head material / face material
Titanium [6-4ti] + Carbon crown + Sole weight / Titanium [ZA]
Loft angle (°)
16
19
22
Lie angle (°)
57.5
58.0
58.5
Head volume (㎤<㏄>)
186
169
161
length (inch)
FUJIKURA SPEEDER NX for TM
42
41.5
41
SHAFT
FLEX
Count
#3
#5
#7
FUJIKURA SPEEDER NX for TM
L.
●
●
●
A.
●
●
●
● indicates development in the finished product club and the custom-made club.
△ is for custom-made clubs.
SHAFT
FUJIKURA SPEEDER NX for TM
flex
L.
A.
club weight (g)
about 260
about 264
Shaft weight (g)
about 39
about 42
torque
7.6
7.3
balance
C1
C3
kick point
Destination
first middle
grip
Lamkin ST BK / WH CP (diameter 59X / 25g) calibrated (backline) Yes