TAYLORMADE STEALTH GLOIRE #6-PW,AW IRONS GRAPHITE
Free Shipping
Free standard shipping on orders over $99
Shipped within 7 business days after placing the order.
FEATURE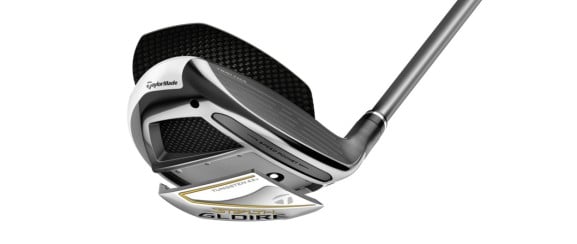 DRAW YOUR NEXT LEVEL
Stealth Gloire Rescue will lead you to the unseen self you envision. The low center of gravity and draw bias design of the Stealth Glore achieve stable flight distance and forgiveness. Let's challenge the game to a further dimension with a rescue that can aim with excellent straightness and high trajectory.
DRAW BIAS DESIGN
By placing a tungsten sole weight on the heel side and mounting a draw bias weight inside the head, the moment of inertia (MOI) is increased and a draw bias design is realized.
FRIENDLY CLUBS FOR ALL GOLFERS
Adopting the optimum center of gravity design for all golfers. As a result, it improves the initial velocity of the ball and makes it a rescue with excellent tolerance that gently extends the flight distance.
MULTI-MATERIAL CONSTRUCTION
Technology that enables weight distribution to achieve a lower center of gravity and greater forgiveness while reducing weight by adopting the optimal materials for each part. Lightweight yet high-strength carbon material is used for the crown. As a result, the excess weight is replaced with a draw bias weight inside the head to achieve high straight flight distance performance.
TECHNOLOGY
Draw Bias Design - forgiveness is improved by placing tungsten sole weights and increasing the moment of inertia (MOI). The draw bias weight mounted inside the head is designed to close the club head at impact, suppressing slices and creating a natural grip.
Precise center of gravity design - Using a multi-material construction, Taylormade succeeded in creating a precise center of gravity design for optimal launch and forgiveness.
Twist Face -Technology that reduces the bending of the ball by twisting the face according to the hitting tendency.
Penetrating speed pocket - TaylorMade's unique penetrating speed pocket contributes to maintaining the ball's initial velocity by suppressing unnecessary spin even on mis-hits at the bottom of the face.
SPECIFICATION
HEAD
#3
#4
#5
#6
head material / face material
Stainless Steel [450SS] + Carbon Crown + Tungsten Sole Weight / Stainless Steel [450SS]
Loft angle (°)
19
21
23
25
Lie angle (°)
61.5
62
62.5
63
Head volume (㎤<㏄>)
112
113
114
115
Length (inch)
FUJIKURA SPEEDER NX for TM
40.5
40
39.5
39
SHAFT
FLEX
Count
#3
#4
#5
#6
FUJIKURA SPEEDER NX for TM
S
●
●
●
●
SR
●
●
●
●
R
●
●
●
●
● indicates development in the finished product club and the custom-made club.
△ is for custom-made clubs.
SHAFT
FUJIKURA SPEEDER NX for TM
flex
S
SR
R
club weight (g)
about 329
about 324
about 319
Shaft weight (g)
about 61
about 56
about 52
torque
4.0
4.1
4.2
balance
D1
D0
C9
kick point
first middle
grip
Lamkin ST BK / WH CP (Diameter 60X / 38.5g) calibrated (backline) Yes